---
Rhythm keeps you
aligned.
Rhythm is a simple system for teams to execute plans and accelerate growth. It is scalable, robust, and the only official software for the Rockefeller Habits.
Find out what makes Rhythm different. Learn more >>
---
A Simple System
Rhythm is Coaching + Software
---
Built for the Elite
Rhythm is not for everyone. It was built to help those companies that have broken through the $10 million barrier (most by a large margin), have multiple levels of management, and are looking for a simple way to help their team keep the company plan on track and accelerate growth.
---
The
Products
Rhythm

A simple coaching and software system to help your team execute your plan and accelerate growth. Rhythm gets results.

Deep Dive Sessions

In-depth sessions with Expert Coaches to help you understand and develop your KPIs and Dashboards, Brand Promise and BHAG.

Annual & Quarterly Planning

Improve your planning sessions by having an Expert Coach facilitate so you and your team can fully participate.
How's Your Quarterly Plan Coming Along? Pay Attention This Week!
Are you ready for weeks 4, 5 and 6? With more than 100,000+ priorities planned and executed in Rhythm, we've begun to apply Rhythm research to help take our execution game up a notch! Every quarter is a 13-Week Race. Our research tells us that priorities often turn Red or Yellow during weeks 4, 5, or 6 of your 13-Week Race. Why does this happen? Our data does not tell us why. It just tells us...Read more
Bond Creativity and Business with Social Glue
Recent polling indicates that 78.2% (+/-3% correct) of business mistakes are the result of meetings. I'm not serious, but my serious experience is that a high percentage of business mistakes come from meetings. Mistakes come from meetings where facts and details are withheld, incomplete, or left unstated and from meetings where status is reported and questions are few, where opportunities are...Read more
---
Our
Webcasts
Recent Webcasts
| | | |
| --- | --- | --- |
| How to Use KPIs to Focus Your Team and Keep Your Plan on Track | Rockefeller Habits for Companies with 100+ Employees | How to Get Your Team to Execute Faster Than Your Competitors |
---
Download the 6 Page Summary of
Mastering the Rockefeller Habits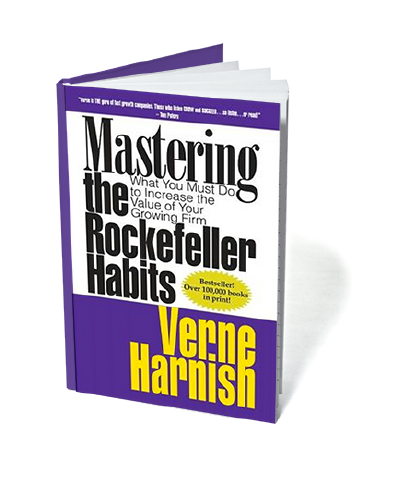 Verne Harnish wrote a best selling book that tells you what you must do to increase the value of your growing firm. We suggest reading the entire book! To get started, this summary will provide you with an overview of the Four Decisons (People, Strategy, Execution and Cash) you need to improve your business results right away.
Verne's book provides you with learnings that over 20,000 CEO's have implemented and follow each day.